2014 Class S championships





Complete brackets
Connecticut Wrestling Online

Since 2001, your source for high school wrestling news and scores

This page was last updated on: October 5, 2014
Copyright 2014, Collinsville Publishing Company







2014 Class S tournament

At Willimantic

Team results -- 1. Windham High, 183½; 2. Terryville, 173½; 3. Montville, 163; 4. Nonnewaug, 143½; 5. Derby, 141½; 6. Haddam-Killingworth, 130½; 7. Portland, 116½; 8. Oxford, 104; 9. Morgan, 100; 10. Canton, 95; 11. Seymour, 72; 12. Griswold, 69; 13. Somers, 61½; 14. Plainville, 60; 15. Holy Cross, 59; 16. East Catholic, 57; 17. Granby, 56; 18. Gilbert, 52; 19. East Windsor, 48½; 20. Weston, 46; 21. Enfield, 42; 22. OSW (Old Saybrook/Westbrook), 29½; 23. Northwestern, 29; 24. Goodwin Tech, 26; 25. Rocky Hill, 25; 26. Housatonic, 23½; 27. Stafford, 18; 28. Old Lyme, 18; 29. St. Paul Catholic, 14; 30. East Hampton, 9; 31. Notre Dame, 7; 32. O'Brien Tech, 6; 33. SMSA/Classical/University 4; 34. Cromwell, 0

Individual results

106

Championship: Patrick Miko, Derby dec. Max Gonzalez, East Catholic, 6-1; 3rd Place: Moonis Ansari, Gilbert dec. Brandon Davis, East Windsor, 5-3, OT; 5th Place: Joseph Pedrolini, Northwestern pin Sharone Foster, Morgan, 0:34

113

Championship: Josh Russell, Derby pin Jacob Martin, Windham, 4:40; 3rd Place: Devon Schoenberger, Gilbert dec. Joel Morth, Montville, 9-1; 5th Place: Fred Ellegard, Terryville dec. Darius Sanchez, Housatonic, Default

120

Championship: Sebby Ruffino, Windham tech fall Sam Ferreira, Terryville, 17-2, 5:58; 3rd Place: Ed Boisits, Nonnewaug pin Zach Looney, Montville, 2:35; 5th Place: Christian Andrade, Somers pin Angel Solis, Portland, 0:51

126

Championship: Mason Rambarose, Portland dec. Elliott Wilion, Terryville, 7-5; 3rd Place: Tommy Wynosky, Montville dec. Lyiam Mathis, Old Lyme, 12-0; 5th Place: Dominic Rivera, Windham pin Mike Mauro, Derby, 2:21

132

Championship: Kieran Duggan, Nonnewaug dec. Tyler Dobek, Derby, 11-5; 3rd Place: Janos Lobb, Oxford dec. Zac Cassidy, Griswold, 7-3; 5th Place: Mackay Revis, Haddam-Killingworth pin Connor Reinsch, Portland, 3:26

138

Championship: Jacob Caskey, Montville dec. David Colvin, OSW, 2-0; 3rd Place: Dane Christiansen, Seymour pin Ryan Landona, Derby, 2:16; 5th Place: Peter Harris, East Catholic dec. Jordan Balskus, Portland, 10-4

145

Championship: Ryan Henderson, Haddam-Killingworth dec. George Andrews, Terryville, 9-3; 3rd Place: Nick Bradley, Morgan dec. Kevin Kehoe, East Windsor, 3-1; 5th Place: Sean Mooney, East Catholic dec. Michael Rivera, Windham, 6-1

152

Championship: Bryan Burnette, Holy Cross dec. Joseph Adams, Goodwin Tech, 4-2; 3rd Place: Jacob Berryparker, Somers dec. Patrick Lawler, Canton, 4-3; 5th Place: Jacob Schmalz, Montville pin Jonathan Oliveira, Plainville, 1:43

160

Championship: Dakota Fleming, Windham dec. Steve Persson, Oxford, 6-3; 3rd Place: Ian Concascia, Montville dec. Jarret Maloney, Enfield, Default; 5th Place: Tim Caplan, Portland dec. Logan Smith, Gilbert, Default

170

Championship: Zachary Roth, Haddam-Killingworth pin Tyler Bergeron, Terryville, 0:58; 3rd Place: Patrick Bogan, Montville dec. Dylan Houle, Canton, 3-2; 5th Place: Alex Perez, Windham pin James Planeta, Portland, 2:35

182

Championship: John D'Agostino, Nonnewaug pin Paul Larosa, Haddam-Killingworth, 1:48; 3rd Place: Chris Young, Rocky Hill dec. Greg Lee, Morgan, 5-4; 5th Place: Ryan O'Connell, Weston dec. Spencer Ravagnani, Portland, 9-0

195

Championship: Albi Cekici, Nonnewaug dec. Justin Pronovost, Terryville, 5-2; 3rd Place: Adam Patsun, Somers dec. Seiji Arzuaga, Windham, 3-2; 5th Place: Devin Glasson, Canton pin Blake Ward, Griswold, 1:48

220

Championship: Skylar Lang, Canton pin James Walsh, Griswold, 1:23; 3rd Place: Tom Bergeron, Terryville pin Joe Corkindale, Holy Cross, 2:08; 5th Place: Travis Delaney, Weston pin Justin Lengvarsky, Granby, 1:59

285

Championship: Dan Carbonaro, Oxford pin Dylan Fusco, Plainville, 2:47; 3rd Place: Chris Ernst, Seymour pin Chris Seales, Morgan, 0:42; 5th Place: Enrique Mejia, Enfield pin Anthony Fernandez, Windham, 2:37

Outstanding wrestler: Jacob Caskey, Montville (138)

Fast fall: Dan Carbonaro, Oxford (285), 4 Pins in 4:36

Windham finds points they need to win Class S title again

By GERRY deSIMAS, JR.

Connecticut Wrestling Online

WILLIMANTIC, Feb. 22 – A year ago, Windham High waltzed to their first Class S championship, clinching the title before the finals had begun. With the win, the Whippets became just the second school to win state titles at three levels – Class L, M and S.

Things were much different on Saturday. Every point mattered. Two starters were absent from the lineup after being suspended earlier in the week. After each round, head coach Patrick Risley gathered his wrestlers to remind them to remain focused and urge them to get pins, picking up extra points along the way.

"We emphasized the importance of pinning. You have to go after it," Risley said.

Throughout the tournament, Windham was in a neck-and-neck battle with Terryville. When the finals began, Windham held a slight half-point lead.

In front of a vocal home crowd, Windham won two of three bouts in the finals to capture its second straight Class S championship by 10 points, 183½ to 173½. Windham junior Sebby Ruffino began the finals with a dominating 17-2 win by technical fall over Terryville's Sam Ferreira. Dakota Fleming (160) won his first Class S title beating two-time Class S champion Steve Persson of Oxford, 6-3.

Terryville had five finalists. Four were No. 2 seeds and one was a No. 7 seed. None came away with titles. But the Kangaroos took home the silver trophy for their best finish in the tournament since taking second in 1990.

"We wrestled a great tournament," Terryville coach Peter Veleas said. "It was the best we wrestled this year by a lot."

But Windham was a bit better. The Whippers had eight wrestlers earn medals. Thirteen of the 14 wrestlers they entered in the tournament scored points.

Anthony Fernandez (285) didn't win a single match this season outside of seven wins by forfeit. But he won three consolation round bouts to finish sixth. Juan Almonte (138) jumped into the starting lineup and picked up two key pins for the Whippets. Michael Rivera (145) was seeded 12th but finished sixth. He weighs about 135 pounds.

Windham had 35 wins in the tournament and had 25 pins. "It was truly a team effort," Risley said. "Our depth came through for us."

Jacob Martin took second at 113 pounds while Seiji Arzuaga (195) finished fourth. Alex Perez (170) and Dominic Rivera (126) each won fifth place medals.

Veleas was pleased with the Kangaroos effort. "This is when you're supposed to wrestle your best," Veleas said. "This is what we came here to do. We did our best."

Terryville senior Sam Ferreira (120), junior Elliott Wilion (126), junior George Andrews (145), junior Tyler Bergeron (170) and senior Justin Pronovost (195) each finished second. All were seeded second in their weight classes except for Bergeron, who was seeded seventh. Andrews, who wrestled all season at 138, moved up a weight class to score more points.

Tom Bergeron (220) took third and Fred Ellegard (113) was fifth for the Kangaroos.

Montville finished third with 163 points for its best finish since taking second in 2008.

Nonnewaug, with three individual champions, was fourth with 143½ points, just two points ahead of Derby. Sophomore Kieran Duggan (132), senior John D'Agostino (182) and Albi Cekici (195) each won for the Chiefs.

It's the most impressive Nonnewaug performance since 1991 when they took home four individual championships.

Duggan (132) had four takedowns in an outstanding 11-5 win over Derby's Tyler Dobek. D'Agostino (182) had four pins in the tournament including a pin of Haddam-Killingworth's Paul LaRosa in 1:48 in the final. Cekici (195) beat Terryville's Justin Pronovost for the third time this year, 5-2 to win a championship.

"It was great," Nonnewaug coach David Green said. "The kids feel they accomplished what they wanted to accomplish."

* * * *

Holy Cross senior Bryan Burnette (152) beat Goodwin Tech's Justin Adams, 4-2 to become the school's first state champion since 2008. Burnette pinned his first three opponents in the tournament, including an 11-second pin in the semifinals.

Burnette took a 2-0 lead in the first period throwing Adams to his back. After he was penalized one point for stalling in the third period, Burnett extended the lead to 4-1 with a reversal with 35 seconds remaining.

Adams slipped away with 25 seconds left to cut the lead to two but couldn't get the match-tying takedown.

"This feels great," Burnette said. "I feel awesome. This has been a dream of mine my whole life." He has been wrestling since he was in eighth grade. He wrestled for two years in Georgia at Jackson County Comprehensive before his family moved to Connecticut.

Adams, a senior, is a one-man team who works out with Bristol Eastern.

* * *

Oxford senior Dan Carbonaro (285) became just the second wrestler in school history to win a state title, pinning Plainville's Dylan Fusco in 25 seconds in the final. Carbonaro (31-0) won all four matches by pin and his longest match of the tournament was a pin in 1:05 in the quarterfinals.

"He's a very good wrestler," Oxford coach Ben Blue said. "He goes after his moves right away. The key is his patience and technique."

Carbonaro is a four-year starter for the Wolverines, who finished eighth. He has 26 pins on the season and has had just two points scored on him this season. He is second in school history with 108 career victories.

Oxford teammate Steve Persson (160) was hoping to win a third straight Class S title but he lost to Windham's Dakota Fleming, 6-3.

Persson, an All-State tailback with the Oxford High football team, has the school record for wins at 114. "He's wrestling the same way he always does," Blue said. "He gets the double leg (takedown) and he bars you (ties you up)."

* * * *

At 126 pounds, Portland's Mason Ramarose won in a battle of defending Class S champions beating Terryville's Elliot Wilion, 7-5. Wilion got a two-point reversal with 30 seconds left in the third period but couldn't get a two-point takedown to send the match into overtime. Wilion won at 119 as a sophomore.

Ramarose had three takedowns in the first period to take a 6-3 lead. He controlled Wilion for most of the match before Wilion got a two-point reversal with 30 seconds left in the third period to cut the lead to one point, 6-5.

Twice, he tried to let Ramarose escape and immediately take him down. But Wilion didn't create enough space from Ramarose for the escape. He finally let him go with four seconds left but couldn't get the takedown to force OT.

* * * *

Canton's Skylar Lang (220) improved to 36-0 with four pins to win the state championship with a pin of Griswold's James Walsh in 1:13. He is the first Canton wrestler to bring home a title since Nate Getler in 2011. Lang wrestled into the second period just once, pinning Terryville's Tom Bergeron in 3:58.

"He's a beast," Canton coach Josh Kaplan said. "He's big strong and athletic. He knows how to wrestle and when he wants to turn it on, he can turn it on."

* * * *

Derby's Patrick Miko (106) and Joshua Russell (113) each won Class S titles along with Haddam-Killingworth's Ryan Henderson (145) and Zach Roth (170). All four wrestlers were No. 1 seeds in their respective weight classes. …

Only two No. 1 seeds lost in the tournament. One was at 138 pounds as Montville's Jacob Caskey used a two-point near fall in the third period to beat two-time Class S champion David Colvin of Old Saybrook/Westbrook. It was Caskey's second straight Class S title and he wrestled with a broken nose. Caskey collided with Colvin late in the first period. The victory earned Caskey the outstanding wrestler award. … The other No. 2 seed to win was Windham's Dakota Fleming at 160 over Oxford's Steve Persson.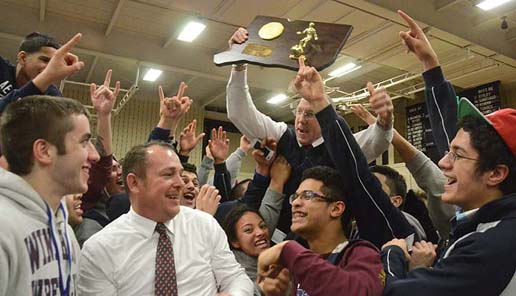 Windham celebrates after winning the Class S championship Saturday night.