2016 State Open championships                        

Complete brackets
Connecticut Wrestling Online

Since 2001, your source for high school wrestling news and scores

This page was last updated on: November 6, 2016
Copyright 2016, Collinsville Publishing Company








n Left, New Fairfield coach Paul Musso leaps in celebration after Alec Opsal won a State Open championship Saturday in New Haven. Right. Musso and Opsal celebrate after the victory.

2016 State Open

At New Haven

Team results – 1. New Fairfield 115½; 2. Danbury 112½; 3. New Milford 111; 4. Newtown 104½; 5. Windham 102; 6. Fairfield Warde 91; 7. Foran 89; 8. Fairfield Ludlowe 87; 9. Trumbull 81½; 10. Killingly 63½; 11. South Windsor 56½; 12. Ledyard 54; 13. New London and Somers 53; 15. Ellis Tech 49; 16. Montville 47; 17. Lyman Memorial/Windham Tech and Manchester 44; 19. Simsbury 39; 20. Southington and East Hartford 38½; 22. Fitch 38; 23. E.O. Smith 36; 24. Shelton 33½; 25. Middletown 30; 26. Daniel Hand 29½; 27. Joel Barlow/Immaculate 29; 28. Berlin and Bristol Eastern 27½; 30. Haddam-Killingworth 25; 31. Notre Dame-Fairfield 24; 32. Northwestern and Branford 23½; 34. Tolland 23; 35. Ridgefield 22; 36. Waterford and Nonnewaug 21; 38. Bristol Central, Guilford and Harding 18; 41. Wilton 17; 42. Stratford 15½; 43. St. Bernard/Norwich Tech 15; 44. East Haven and Fairfield Prep 13; 46. Wolcott Tech 12; 47. Gilbert 11; 48. Granby Memorial, Griswold, Wethersfield and Platt High 10; 52. Westhill 9; 53. St. Paul, Pomperaug and Xavier 8; 56. Greenwich, Avon, Bethel and Plainville 7; 60. East Lyme 6½; 61. East Windsor, Masuk, Staples and  New Haven 6; 65. Amity and Fermi 5; 67. Rocky Hill, Terryville, Portland, Conard, Derby and Seymour 4; 73. Norwich Free Academy, Maloney, Farmington and Weston 3; 77. Norwalk, Glastonbury, Enfield, Hall, Canton, and New Britain 2; 83. Morgan, East Catholic, Bacon Academy, Stamford, Cheshire, Darien, Oxford, Woodstock Academy, Holy Cross and Jonathan Law 0

Individual results

106 pounds

Final -- Robert Hartling (E.O. Smith) dec. Jarod Kosman (Fitch), 7-5; 3. Julio Anthony Flores (Windham) dec. Connor Sakmar (Daniel Hand), 2-1, 2nd OT; 5th  Sean Johnson (Ellis Tech) dec. Brandon Leonard (New Milford), 9-0

113 pounds

Final -- Jakob Camacho (Danbury) dec. Devon Schoenberger (South Windsor), 3-1; 3. Tristan Haviland (Trumbull) dec. Nick Arborio (Berlin), 7-3; 5. Gino Esposito (Foran) dec. Julio Javier Flores (Windham), 3-1

120 pounds

Final -- Alec Opsal (New Fairfield) pin Melquisedec Ortiz (New Milford), 2:58; 3. Kyle Fields (Danbury) pin Alex Starr (Lyman Memorial/Windham Tech), 4:09; 5. Shaun Wagner (Southington) dec. Willie Gambardella (Branford), 4-2

126 pounds

Final -- Baltazar Gonzalez (Ellis Tech) dec. Austin Sherman (Fairfield Ludlowe), 15-5; 3. Christopher Schultz (New Milford) dec. Michael Mirmina (Trumbull), 4-2; 5. Paul Calo (Southington) pin Alex Steele (Fairfield Warde), 1:41

132 pounds

Final -- Timmy Kane (Fairfield Warde) dec. Joel Morth (Montville), 9-3; 3. Ryan Luth (Foran) dec. Ryan Angers (Tolland), 7-1; 5. Alejandro Paulino (New London) dec. Charles Schultz (New Milford), 5-2

138 pounds

Final -- Avery Shay (New Fairfield) dec. Jeremy Fields (Danbury), 3-1, OT; 3. Jordan Baker (Middletown) dec. Dante Montanaro (Trumbull), 2-1; 5. Matthew Dowler (St. Bernard/Norwich Tech) dec. Matthew Conte (Westhill), 4-3

145 pounds

Final -- Charles Kane (Fairfield Warde) dec. Bryan Rojas (New Milford), 13-6; 3. Michael Ross (Foran) dec. Edward Lovely (Newtown), 4-3; 5. Bobby Clark (Fairfield Ludlowe) dec. Cullan Contos (Windham), 4-2

152 pounds

Final -- Emmett LiCastri (Joel Barlow/Immaculate) dec. Marcus Sherrod (Fairfield Ludlowe), 1-0; 3. Kieran Duggan (Nonnewaug) dec. Grayson Adler (Haddam-Killingworth), 10-3; 5. Samuel Lindblom (Waterford) pin Anton Dzeidzic (Wolcott Tech), 2:57

160 pounds

Final -- Jacob Berry Parker (Somers) dec. Andrew D'Amico (New Fairfield), 3-2; 3. Chase Lind (Fairfield Ludlowe) dec. Brett Leonard (New Milford), 8-6, OT; 5. Billy Goff (Fitch) dec. Joseph Ryan (Trumbull), 9-3

170 pounds

Final -- Max Odell (South Windsor) dec. Joe Accousti (Newtown), 3-1; 3. Tyler Burlinson (New Fairfield) dec. Alex Perez (Windham), 6-5; 5. Christopher Shimwell (Wethersfield) win by forfeit over Logan Smith (Gilbert)

182 pounds

Final -- Anthony Falbo (Newtown) dec. Austin Caffrey (Killingly), 6-4; 3. Mitchell LaFlam (Lyman Memorial/Windham Tech) dec. Demetrius Mariani (East Hartford), 6-5; 5. Jorge Hidalgo (New London) dec. Daniel Persson (Shelton), 9-0

195 pounds

Final -- Jackson Rheault (Somers) dec. Daniel Contino (Ledyard), 3-1; 3. Xavier Bass (Harding) pin Andrew Marquis (Danbury), 2:13; 5. Lee Stenild-Johanson (Fairfield Ludlowe) dec. Gabriel Schwartz (Northwestern), 4-1

220 pounds

Final -- Jordan Fletcher (Manchester) dec. Seiji Arzuaga (Windham), 3-2, 2 OT; 3. Thomas Long (Newtown) dec. Jasper Stone (Simsbury), 3-2; 5. John Ocana (Fairfield Warde) win by forfeit over Renelson Michel (New London)

285 pounds

Final -- Luke Edmondson (Foran) dec. Hakim Fleming (Notre Dame-Fairfield), 2-1; 3. Josh Angel (Killingly) pin Desmond Washington (Trumbull), 1:43; 5. Edward Fountain (Manchester) win by forfeit over Shawn Hundley (Ledyard)

Outstanding wrestler: Baltazar Gonzalez, Ellis Tech (126)

Most exciting final: 126 pounds

By GERRY deSIMAS, Jr.

Connecticut Wrestling Online

NEW HAVEN, Feb. 27 – Every match and every point mattered Saturday at the State Open championships for Danbury, New Milford and New Fairfield. The three teams were locked in a battle for the tournament championship – one of the tightest races in tournament history

In the end, it was New Fairfield with two individual champions and four medalists that edged Danbury by three points for its first-ever State Open championship, 115½ to 112½. New Milford, which led going into the finals, was right there with 111 points. Newtown was fourth with 104½ points while Windham was fifth with 102 points.

It was the Rebels with the key victories Saturday to win the State Open. Seven of the team's nine wrestlers in the tournament won at least three matches. In the semifinals, Andrew D'Amico (160) beat New Milford's Brett Leonard with a reversal in the second OT for a 3-1 win. Leonard had beaten D'Amico three times this season.

Alec Opsal (120) won his second straight State Open title while Avery Shay (138) won his first Open title with a 3-1 win in overtime over Danbury's Jeremy Fields thanks to a takedown. D'Amico was second and Tyler Burlinson (170) was third.

Take away one win from New Fairfield, give Danbury or New Milford an additional win and it is a different outcome.

"It was amazing how we went from first to third in a blink of an eye," New Milford coach Chris Piel said. "Every point and every match mattered. Every point was essential."

New Fairfield coach Paul Musso was emotional afterward. He had a smile that never wilted but he would occasionally pause to try and find that right word.

He had coached the Rebels for a few years in the early 2000s. He spent time at Sacred Heart University as an assistant coach. He took some time off after a motorcycle accident. When he returned to New Fairfield in 2010, there were holes throughout the lineup. Sometimes, they forfeited six weight classes a match.

Now, they are State Open champions.

"We didn't have a full team for most of the year. We had some kids hurt. We had some problems. We had academic issues," he said. "For the kids to come together at the right time makes me feel good. This team was pretty special. This is unbelievable."

It was only the second tournament win of the season for the Rebels, who went 6-for-6 in the finals to win the 34th Edgemont Tournament in Scarsdale, N.Y., in late January. New Fairfield was third in Class M a week ago, 11 points behind champion Foran and was third in the Southwest Conference championships two weeks ago. New Milford easily won the SWC Tournament with an 80-point win over Newtown and 106 points ahead of New Milford.

"It special to beat (Danbury, Newtown and New Milford) but in the same line, we expect to be there (fighting for a championship), too," Musso said. "I'm not saying we'll win every year but you need a team like this and the kids knew it. It was special."

Burlinson dropped a 3-2 decision in the quarterfinals. But he didn't hang his head. He kept wrestling hard. He won three straight in the consolation round including a pair of one-point decisions over Gilbert's Logan Smith, 3-2 and avenged that quarterfinal loss to Windham's Alex Perez with a 6-5 win in the consolation finals to take third.

New Milford finished second for the third time in three years and Piel saw the opportunities for points that the Green Wave left on the mat. New Milford has been in the top five for the past six seasons. One wrestler lost a point for a misconduct while other wrestlers lost tight matches in the consolation round.

"As a team, we came up short of what I think we were capable of achieving," he said. "It was really what happened on those back (consolation round) mats. A lot of our kids wrestled well but we came up a bit short."

New Milford's Melquisedec Ortiz (120) and Bryan Rojas (145) each finished second while Chris Schultz (126) was third. Brett Leonard (160) finished fourth while Brandon Leonard (106) and Charles Schultz (132) were each sixth.

Danbury was just a win or two shy of winning another State Open title. Jakob Camacho (113) won a Open crown while Jeremy Fields (138) was second. Kyle Fields (120) took third while Andrew Marquis (195) was fourth.

"We wrestled pretty good," Danbury coach Ricky Shook said. "Another win here or there would have been huge. They had one more finalist than us and that was the difference."

New Fairfield became the first Class M team since Bacon Academy (2011) to win an Open championship. The Rebels' three-point win over Danbury was the tightest since Bacon beat Hand by three points in 2011, 98-95. The closest Open tournament was in 2002 when Danbury beat RHAM by two, 95-93.

New Milford was in third place, 4½ points behind New Fairfield. No third place team has ever been that close to the title than the Green Wave. The State Open did not have team scoring from 1976 through 2000.

The lead changed twice in the finals. They began with New Milford leading with 111 points followed by Danbury with 108 ½ and New Fairfield with 105½ points.

Danbury took a half-point lead 1½ point lead over New Milford, 112 ½ to 111 after Camacho won at 113 pounds. At 120, Opsal pinned for New Fairfield and the Rebels moved into second place with 111½ points, pushing New Milford into third place.

At 138 pounds, New Fairfield's Shay beat Danbury's Fields 3-1 in overtime pushing New Fairfield into the lead with 115½ points with Danbury second with 112 ½ and New Milford third with 111. That eliminated Danbury from title contention. The Rebels clinched it when New Milford's Bryan Rojas lost at 145 pounds.

106

With three takedowns, E.O. Smith junior Robert Hartling won his first State Open championship with a 7-5 win over Fitch sophomore Jarod Kosman. Hartling, the Class L champion, remains undefeated at 40-0. Hartling beat Kosman twice in the Class L finals the past two seasons. This year, Hartling won, 5-4.

Windham's Julio Anthony Flores (39-5) took third with a 2-1 win in the second OT over Hand's Connor Sakmar.

113

Danbury sophomore Jakob Camacho built a 3-0 lead in the first period and held on to hand South Windsor's Devon Schoenberger his first loss of the season with a 3-1 victory in the championship match. Camacho, the Class LL champion who got just the third takedown of the year against Schoenberger, improves to 40-2 on the year while Schoenberger, the Class L champion, is now 41-1. Trumbull's Tristan Haviland beat Berlin's Nick Aborio, 7-3 to finish third.

120

New Fairfield junior Alec Opsal won his second straight Open title by pinning New Milford's Melquisedec Ortiz in 2:58. Danbury's Kyle Fields was third by pinning Alex Starr of Lyman Memorial/Windham Tech in 4:09.

126

Ellis Tech' junior Baltazar Gonzalez (45-0) won the first State Open championship in school history with a 15-5 win over Austin Sherman of Fairfield Ludlowe. He didn't give up a takedown or near fall in four matches. The only points the opposition scored was escapes.

Sherman advanced to the final with a 5-4 win in the second OT in the semifinals over cross-town rival Alex Steele of Fairfield Warde. New Milford's Chris Schultz beat Trumbull's Michael Mirmina, 4-2 to finish third. Mirmina won his first match with a pin over East Haven's Nic DeMorro and then lost to Gonzalez. But Mirmina won five straight bouts including one in OT to earn a spot in the consolation final.

Gonzalez was named the tournament's outstanding wrestler. Sherman and Ludlowe teammate Marcus Sherrod (152) were the first Fairfield Ludlowe wrestlers to compete in the State Open finals.

132

In a battle of two undefeated wrestlers, junior Tim Kane of Fairfield Warde won his second straight State Open championship with a strong 9-3 win over Montville's Joel Morth. Over a 30-second span between the second and third period, Kane (42-0) had three takedowns to take command of the match. Morth is now 45-1 on the year.

Sophomore Ryan Luth of Foran (51-3) beat Tolland's Ryan Angers, 7-1 to finish third.

138

In a match that helped decide the State Open title, New Fairfield junior Avery Shay got a takedown in overtime to beat Danbury's Jeremy Fields, 3-1 and give the Rebels a boost in the team standings.

Both men spent most of the six minute jockeying for position, trying to get good position to shoot for a takedown. "I knew I would take him down," Shay said after the match. "I had to wait for the right opening. Usually, I wait for (my opponent) to make a mistake and score."

Middletown's Jordan Baker won four straight consolation round matches, including a 2-1 win over Trumbull's Dante Montanaro to finish third. Baker beat Montanaro, 9-7 in overtime in the second round of the tournament on Friday night.

145

Fairfield Warde senior Charles Kane won his second straight State Open championship with a 13-6 decision over New Milford's Bryan Rojas. Kane and his brother, Tim, won Open titles on the same day. They are the fourth set of brothers to win State Open titles in the same tournament. However, they are the first set of brothers to do it two years in a row.

152

Emmet LiCastri of Joel Barlow/Imaculate escaped early in the second period and outdueled Marcus Sherrod of Fairfield Ludlowe in a 1-0 decision to win a State Open championship.

"It feels really good, especially since I came up short here last year. That was really devastating," LiCastri told the Danbury News Times. "I worked all summer with my club team at Iowa Style and really put together a good season here. But I owe it all to my teammates and my coaches. Without them, I couldn't have gotten here."

It was the tightest match of the tournament for LiCastri, the two-time Class L champion who improved to 46-0 and 182-13 in his career. LiCastri also beat Sherrod in the Class L championship bout by a 1-0 score.

Nonnewaug's Kieran Duggan finished third with a 10-3 win over Haddam-Killingworth's Grayson Adler in a rematch of the Class S final that Duggan won. Duggan, a three-time Class S champion, was upset in the second round Friday night by Wolcott Tech's Anton Dzeidzic, who pinned Duggan with a headlock in 42 seconds. Duggan had wrestled in the Open finals the two previous seasons.

Duggan, now 41-4, began the long, hard road back through the consolation bracket, winning six straight to finish third. On the way, Duggan beat Dzeidzic in the consolation semifinals, 8-4. Dzeidzic, wrestling with three bruised ribs that he hurt a few days before the Class M tournament, made it to the Open semifinals before dropping a 4-2 decision to Sherrod on a takedown with 14 seconds left in the second period.

160

Somers senior co-captain Jacob Berry Parker escaped with 1:56 left in the third period to tie his finals bout with New Fairfield's Andrew D'Amico at 2-2. Berry Parker picked up an additional penalty point (stalling) with about a minute to go to take the lead and held on for a 3-2 victory.

Berry Parker (40-0) was one of two Somers wrestlers to win State Open championships on the day along with teammate Jackson Rheault (195).

D'Amico got the big 3-1 semifinal win in double OT to beat New Milford's Brett Leonard to beat Leonard for the first time in four matches this season, earn a spot in the final and help the Rebels move toward the Open title.

In the consolation final, Leonard dropped another OT decision to Fairfield Ludlowe's Chase Lind,8-6, and finished fourth.

170

Following in the footsteps of his older brothers Jake and Sam, South Windsor's Max Odell won a second consecutive State Open championship with a 3-1 win in double overtime over Newtown's Joe Accousti.

Odell led 1-0 in the third period when Accousti escaped with 22 seconds remaining in the third period to tie the bout and send it into overtime. In the second OT, Odell was able to ride out Accousti for 30 seconds, holding him scoreless.

When it was Accousti's turn to ride out Odell, it was Odell (32-0) escaping with five seconds remaining to take a 2-1 lead. He received another point on a penalty (multiple cautions) for a 3-1 victory.

Odell's brother, Sam, won a pair of Open titles in 2012 and 2013 while his other brother, Jake, won an Open title in 2011.

Tyler Burlinson beat Windham's Alex Perez, 6-5 to finish third.

182

Newtown junior Anthony Falbo became just the 14th wrestler in state history to win three State Open championships with a 6-4 win over Killingly's Austin Caffrey, handing Caffrey his first loss of the season.

Falbo, who held up three fingers when the referee raised his hand in victory, can be become just the third wrestler in state history and first since 1996 to win four State Open titles if he does again in his senior year.

"I've I worked pretty hard in the off season and it paid off. I'll go for my fourth one next season," he said. "I remained focused."

Against Caffrey (40-1), the score was close but Falbo (44-0) was in control for most of the match. Caffrey drew a few gasps from the crowd with his takedown of Falbo with 41 seconds remaining in the first period but Falbo escaped in six seconds.

In the second period, Falbo began down, escaped in two seconds and took down Caffrey with 1:34 left in the period for a 4-2 lead. Caffrey escaped to cut the lead to one but Falbo got a takedown with 16 seconds remaining for a 6-3 lead.

Falbo beat Caffrey in the Open finals a year ago, winning by pin in 43 seconds.

Mitchell LaFlam of Lyman Memorial/Windham Tech beat East Hartford's Demetrius Mariani, 6-5 to finish third.

195

Somers junior co-captain Jackson Rheault remained undefeated with a 3-1 win over Class M champion Daniel Contino of Ledyard in the State Open final. Rheault is now 37-0 on the year.

Contino (41-3) took a 1-0 lead in the second period with an escape but Rheault got a takedown with 45 seconds remaining to take a one-point lead. Rheault extended that lead to two, 3-1, with an escape with 1:12 left in the third period.

Harding's Xavier Bass finished third by pinning Danbury's Andrew Marquis in 2:13.

220

A week ago in the Class LL tournament, Manchester senior Jordan Fletcher was the top seeded wrestler after an undefeated regular season (36-0). But he lost in the semifinals by a point on a penalty and finished fourth. This week, there was no stopping him.

Fletcher won five matches including a 3-2 decision in double OT over Windham's Seiji Arzuaga to become Manchester's first State Open champion since 1990. Tied at 2-2 after regulation, the two wrestlers went into the second OT. Fletcher escaped to take a 3-2 lead and rode out Arzuaga for 30 seconds to win the championship.

Few wrestlers that finish fourth at the Class LL, L, M or S meets win Open championships. Fletcher beat Ellis Tech's Gavin Thuotte, 10-0 on Friday and beat Class M champion Daric Johnson of Ledyard, 4-2 in triple overtime with a reversal. After pinning E.O. Smith's Patrick Clarke in the quarterfinals, Fletcher beat Class LL champion Thomas Long of Newtown, 5-3 in the semifinals, thanks to a pair of takedowns.

Long finished third with a 3-2 win over Simsbury's Jasper Stone.

285

Foran's Luke Edmondson (49-4) escaped in overtime to win his first State Open championship with a 2-1 decision over two-time Class S champion Hakim Fleming of Notre Dame-Fairfield. Fleming is the first Open finalist from his school.

Killingly's Josh Angel pinned Trumbull's Desmond Washington in 1:43 to finish third.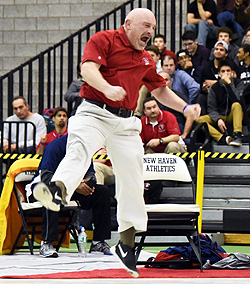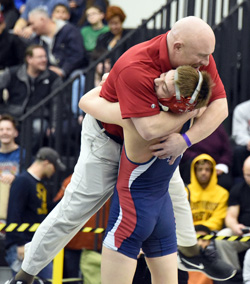 Every point matters as New Fairfield prevails to win first State Open championship